Farm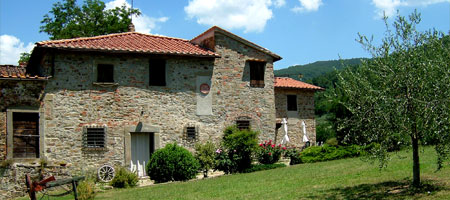 Trebbio is a family farm of 15 hectares producing wine and extra virgin olive oil. It is located in the municipality of Pelago, just 25 kms far from Florence.
Situated between the slopes of the Apennines, Pratomagno and the Sieve valley, Pelago has a surprising and enchanting variety of landscapes: plains, hills and mountains. Thanks to its geographical position, Pelago is also a key point for road and rail links among Casentino, Mugello, the Upper Valdarno area and the surroundings of Florence.
Trebbio farm holiday is about 2 km from the town of Pelago and withing an area of restocking of game where it is not unusual to see deer, hares, pheasants and other local species.
We carry out the farm holiday activity since 1995 and we like to do it in the name of cordiality and with spirit of friendship using the buildings located in the small residential complex that is the heart of the property. The core of the old farmhouse - where are also the cellars and our house - was born in 1200 as a convent of the monks of Vallombrosa. On the following centuries it has been modified and expanded up to reach today's size.
In the old barn we have realized a large common room with fireplace. A meeting place where you can taste and buy the genuine products (Chianti, White Wine and Red Wine, Vin Santo DOC, extra virgin olive oil) of our farmhouse. Situated among vineyards and olive trees, our pool offers a charming view of the whole Sieve valley.
Due to its geographical position, our farm holiday is ideal for a relaxing vacation in touch with nature and an excellent starting point for daily excursions. While accommodating at our farm holiday you can take walks around the farm, participate in agricultural activities (grape and olive harvest), enjoy the kitchen garden and visit the cellars. During the pressing of the olives, we organize visits to the oil mill.